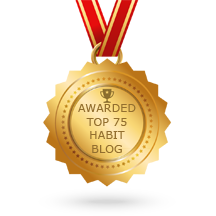 I've recently changed the focus at danerickson.net from creativity to Simple Habits for Success. That's not news, but getting included on a list of the 75 Top Habits' Blogs on the Internet is news. I'm honored to be included on the list so soon after the change.
Recently, my blog came in at #37 in the top 75 habits' blogs. That's an honor that I really appreciate. But I'd also like to honor the top 5 blogs on the list:
5 Top Habits' Blogs on the Internet
These are all great blogs, but make sure to check out the entire list of habits blogs.
It's my hope that the content at danerickson.net will provide readers with the same level of content as the best on the list. Together, we can make Simple Habits for Success one of the top blogs in the habits' category.
Soon, I'll be introducing premium content at Simple Habits for Success. Be the first to know when new content and courses are available by signing up for my free newsletter.